About Us
Welcome Chinese is a Chinese takeaway in Hartlepool. Why don't you try our Mini Chicken Balls with Sauce or Garlic & Chilli Sauce?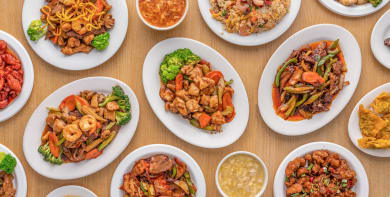 Reviews
271 reviews
Kim
"Lovely food and would definitely recommend"
14/06/2021
Anthony
"Cracking beautiful food what more is there to say"
11/06/2021
Pamela
"Food was delivered in really fast time, was delivered hot, another loverly meal."
29/05/2021
Mark
"Excellent service, great food and huge portions great value for money. Delivery driver friendly and efficient"
24/05/2021
Menu
Creamed Style Sweetcorn Soup
£2.50
Crabmeat & Sweetcorn Soup
£2.70
Chicken, Mushroom & Noodle Soup
£3.20
Mixed Appetisers
Sesame prawn on toast, 4 crispy wonton, 4 salt & pepper spare ribs & vegetable spring rolls (2)
£8.00
Chilli & Honey Spare Ribs
£6.20
Peking Style Crispy Chicken
£5.80
Mini Chicken Balls with Sauce BBQ
£5.80
Mini Chicken Balls with Sauce Curry
£5.80
Mini Chicken Balls with Sauce Gravy
£5.80
Mini Chicken Balls with Sauce Sweet & Sour
£5.80
Skewer Chicken in Satay Sauce
£5.50
Skewer Prawns in Satay Sauce
£6.80
Chicken Wings A. Salt & Pepper
£5.50
Chicken Wings B. BBQ Sauce
£5.50
Chicken Wings C. Peking Sauce
£5.50
Chicken Wings D. Chilli & Honey Sauce
£5.50
Salt & Pepper King Prawns
£6.50
Vegetable Spring Rolls (6)
£3.00
Crispy Wontons
With sweet & sour sauce
£4.50
Crispy Aromatic Duck Quarter
Served with pancakes, hoisin sauce, cucumber & spring onions
£9.00
Crispy Aromatic Duck Half
Served with pancakes, hoisin sauce, cucumber & spring onions
£17.00
Crispy Aromatic Lamb
Served with pancakes, hoisin sauce, cucumber & spring onions
£9.50
Crispy Aromatic Pork
Served with pancakes, hoisin sauce, cucumber & spring onions
£8.50
House Special in Curry Sauce
£6.50
Char Siu Curry
Roast pork
£5.80
Choice of Any 2 Meats Curry
King prawn, beef, chicken OR char siu
£6.30
House Special with Gravy Sauce
£6.50
King Prawn with Gravy Sauce
£6.50
Char Siu with Gravy Sauce
Roast pork
£5.80
Roast Duck with Gravy Sauce
£7.20
Choice of Any 2 Meats with Gravy Sauce
King prawn, beef, chicken OR char siu
£6.30
House Special Sweet & Sour Hong Kong Style
£6.50
Sweet & Sour King Prawns Hong Kong Style
£6.50
Sweet & Sour Chicken Hong Kong Style
£5.80
Sweet & Sour Pork Hong Kong Style
£5.90
Sweet & Sour Chicken Balls
£5.80
Sweet & Sour King Prawn Balls
£6.80
Welcome Special Chop Suey
£6.80
Char Siu Chop Suey
Roast pork
£5.80
House Special with Green Pepper & Black Bean
Sauce
£6.50
Welcome Special with Green Pepper & Black Bean
Sauce
£6.80
King Prawn with Green Pepper & Black Bean Sauce
£6.50
Beef with Green Pepper & Black Bean Sauce
£5.80
Chicken with Green Pepper & Black Bean Sauce
£5.70
Char Siu with Green Pepper & Black Bean Sauce
Roast pork
£5.80
Mussels with Green Pepper & Black Bean Sauce
£7.00
Roast Duck with Green Pepper & Black Bean Sauce
£7.20
Mixed Vegetables with Green Pepper & Black Bean
Sauce
£5.50
House Special with Ginger & Spring Onions
£6.50
Welcome Special with Ginger & Spring Onions
£6.80
King Prawn with Ginger & Spring Onions
£6.50
Beef with Ginger & Spring Onions
£5.80
Chicken with Ginger & Spring Onions
£5.70
Char Siu with Ginger & Spring Onions
Roast pork
£5.80
Mussels with Ginger & Spring Onions
£7.00
Roast Duck with Ginger & Spring Onions
£7.20
House Special with Cashew Nuts
£6.50
Welcome Special with Cashew Nuts
£6.80
King Prawn with Cashew Nuts
£6.50
Char Siu with Cashew Nuts
Roast pork
£5.80
Mixed Vegetables with Cashew Nuts
£5.50
Roast Duck with Cashew Nuts
£7.20
House Special with Oyster Sauce
£6.50
Welcome Special with Oyster Sauce
£6.80
King Prawn with Oyster Sauce
£6.50
Chicken with Oyster Sauce
£5.70
Char Siu with Oyster Sauce
Roast pork
£5.80
Mixed Vegetables with Oyster Sauce
£5.50
Roast Duck with Oyster Sauce
£7.20
House Special Szechuan Style
£6.50
Welcome Special Szechuan Style
£6.80
King Prawn Szechuan Style
£6.50
Char Siu Szechuan Style
Roast pork
£5.80
Roast Duck Szechuan Style
£7.20
Mixed Vegetables Szechuan Style
£5.50
House Special with Satay Sauce
£6.50
Welcome Special with Satay Sauce
£6.80
King Prawn with Satay Sauce
£6.50
Char Siu with Satay Sauce
Roast pork
£5.80
Mixed Vegetables with Satay Sauce
£5.50
Roast Duck with Satay Sauce
£7.20
House Special with Kung Po Sauce
£6.50
Welcome Special with Kung Po Sauce
£6.80
King Prawn with Kung Po Sauce
£6.50
Chicken with Kung Po Sauce
£5.70
Char Siu with Kung Po Sauce
Roast pork
£5.80
Mixed Vegetables with Kung Po Sauce
£5.50
Roast Duck with Kung Po Sauce
£7.20
House Special with Bamboo Shoot & Water Chestnut
£6.50
Welcome Special with Bamboo Shoot & Water
Chestnut
£6.80
King Prawn with Bamboo Shoot & Water Chestnut
£6.50
Beef with Bamboo Shoot & Water Chestnut
£5.80
Chicken with Bamboo Shoot & Water Chestnut
£5.70
Char Siu with Bamboo Shoot & Water Chestnut
Roast pork
£5.80
Roast Duck with Bamboo Shoot & Water Chestnut
£7.20
Char Siu Mushroom
Roast pork
£5.80
Char Siu Tomato
Roast pork
£5.80
House Special in Black Pepper Sauce
£6.50
Welcome Special in Black Pepper Sauce
£6.80
King Prawn in Black Pepper Sauce
£6.50
Beef in Black Pepper Sauce
£5.80
Chicken in Black Pepper Sauce
£5.70
Char Siu in Black Pepper Sauce
Roast pork
£5.80
Roast Duck in Black Pepper Sauce
£7.20
Welcome Special Pineapple
£6.80
Char Siu Pineapple
Roast pork
£5.80
House Special with Garlic & Chilli Sauce
£6.50
Welcome Special with Garlic & Chilli Sauce
£6.80
King Prawn with Garlic & Chilli Sauce
£6.50
Beef with Garlic & Chilli Sauce
£5.80
Chicken with Garlic & Chilli Sauce
£5.70
Char Siu with Garlic & Chilli Sauce
Roast pork
£5.80
Roast Duck with Garlic & Chilli Sauce
£7.20
Welcome Special in Chilli & Honey Sauce
£7.00
King Prawn in Chilli & Honey Sauce
£6.80
Chicken Chilli & Honey Sauce
£6.20
Crispy Shredded Chicken in Chilli & Honey Sauce
£6.30
Crispy Shredded Beef in Chilli & Honey Sauce
£6.50
House Special with Garlic Butter Sauce
£6.50
Welcome Special with Garlic Butter Sauce
£6.80
King Prawn with Garlic Butter Sauce
£6.50
Beef with Garlic Butter Sauce
£5.80
Chicken with Garlic Butter Sauce
£5.70
Char Siu with Garlic Butter Sauce
Roast pork
£5.80
Roast Duck with Garlic Butter Sauce
£7.20
House Special Egg Foo Yung
£6.50
Char Siu Egg Foo Yung
Roast pork
£5.80
Char Siu Omelette
Roast pork
£5.80
Grilled Sirloin Steak & Mushroom
£8.50
Grilled Liver & Mushrooms
£5.80
Roast Chicken, Bacon & Sausage
£6.00
Chicken with Bean Sprout in BBQ Sauce
£6.50
Roast Duck with Bean Sprout in BBQ Sauce
£7.50
Roast Duck & Roast Pork with Bean Sprout in BBQ
Sauce
£7.50
Roast Duck with Orange Sauce
£7.50
Chicken with Orange Sauce
£6.00
Roast Duck in Lemon Sauce
£7.50
Crispy Shredded Beef in Peking Sauce
£6.20
Crispy Shredded Chicken in Peking Sauce
£6.00
Shredded Beef in OK Sauce
£6.50
House Special in Thai Green Curry
£6.80
King Prawns in Thai Green Curry
£6.80
Chicken in Thai Green Curry
£6.30
Mixed Vegetable in Thai Green Curry
£6.20
House Special in Thai Red Curry
£6.80
King Prawns in Thai Red Curry
£6.80
Chicken in Thai Red Curry
£6.30
Mixed Vegetable in Thai Red Curry
£6.20
House Special in Thai Sauce
£6.80
King Prawns in Thai Sauce
£6.80
Mixed Vegetables with Thai Sauce
£6.20
House Special with Lao Gan Ma Spicy Chilli Sauce
£7.20
King Prawn with Lao Gan Ma Spicy Chilli Sauce
£7.00
Beef with Lao Gan Ma Spicy Chilli Sauce
£6.50
Chicken with Lao Gan Ma Spicy Chilli Sauce
£6.50
House Special Shanghai Style
£6.80
King Prawn Shanghai Style
£6.80
Special Mixed Meat with Crispy Noodles
£6.90
King Prawns Crispy Noodles
£6.80
Char Siu Crispy Noodles
Roast pork
£6.50
Roast Duck Crispy Noodles
£7.50
Mixed Vegetables Crispy Noodles
£6.20
Char Siu Chow Mein
Roast pork
£5.80
Mixed Vegetables Chow Mein
£5.80
Choice of Any 2 Meats Chow Mein
King prawn, beef, chicken OR char siu
£6.50
Char Siu Fried Rice
Roast pork
£5.80
Mixed Vegetables Fried Rice
£5.80
Choice of Any 2 Meats Fried Rice
King prawn, beef, chicken OR char siu
£6.50
Curry, Fried Rice & Chips
£3.60
Gravy, Fried Rice & Chips
£3.60
Curry, Noodles & Fried Rice
£4.00
Gravy, Noodles & Fried Rice
£4.00
Fried Rice, Curry & Sliced Chicken
£5.00
Fried Rice, Gravy & Sliced Chicken
£5.00
Chips, Curry & Sliced Chicken
£5.00
Chips, Gravy & Sliced Chicken
£5.00
Noodles, Curry & Sliced Chicken
£5.20
Noodles, Gravy & Sliced Chicken
£5.20
Pineapple Fritter in Syrup
£2.60
Set Meal A for One Person
Chicken & sweetcorn soup
Sesame prawn on toast
BBQ spare ribs
Choose 1 main dish
Fried rice
£12.00
Set Meal for Two Persons
Chicken & sweetcorn soup (2)
Mixed appetisers
Choose 2 main dishes
Fried rice (2)
£24.00
Set Meal C for Three Persons
Crabmeat & sweetcorn soup (3)
Crispy aromatic duck (quarter)
Salt & pepper chicken wings
Choose 3 main dishes
Fried rice (3)
£33.00
Set Meal D for Four Persons
Peking hot & sour soup (4)
Crispy aromatic duck (half)
Salt & pepper spare ribs
Choose 4 main dishes
Fried rice (4)
£43.00
Welcome Munchy Box
Chicken balls (4), salt & pepper ribs, vegetable spring rolls (4), salt & pepper chips, salt & pepper chicken, sesame prawn on toast, Tsingtao samosa (4), egg fried rice, curry sauce
£16.00
Small Munchy Box
Small chicken balls (4), salt & pepper ribs, salt & pepper chips, salt & pepper chicken, vegetable spring rolls (4), Tsingtao samosa (4), egg fried rice, curry sauce
£13.99
Contact Us
Find Us
14 Lister Street, Hartlepool, TS247QE
We deliver to
TS24, TS25, TS26