About Us
Welcome Chinese is a Chinese takeaway in Hartlepool. Why don't you try our Mini Chicken Balls with Sauce or Garlic & Chilli Sauce?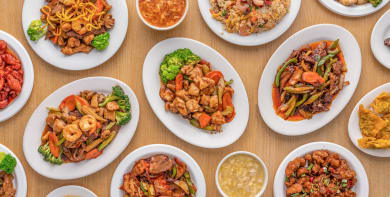 Reviews
273 reviews
Pamela
"Haven't ordered for a while but was not disappointed, again food was loverly, portions are good would recommend."
08/05/2021
Kayleigh
"Anazing"
01/05/2021
Adrian
"Great food !!!!"
30/04/2021
Tina
"Spare ribs great best chicken and mushroom soup iv tried in Hartlepool"
30/04/2021
Menu
Char Siu with Cashew Nuts
Roast pork
£5.80
King Prawn with Cashew Nuts
£6.50
House Special with Cashew Nuts
£6.50
Mixed Vegetables with Cashew Nuts
£5.50
Roast Duck with Cashew Nuts
£7.20
Welcome Special with Cashew Nuts
£6.80
Welcome Special Pineapple
£6.80
Char Siu Pineapple
Roast pork
£5.80
Char Siu Mushroom
Roast pork
£5.80
Char Siu Tomato
Roast pork
£5.80
King Prawn with Lao Gan Ma Spicy Chilli Sauce
£7.00
House Special with Lao Gan Ma Spicy Chilli Sauce
£7.20
Chicken with Lao Gan Ma Spicy Chilli Sauce
£6.50
Beef with Lao Gan Ma Spicy Chilli Sauce
£6.50
Char Siu in Black Pepper Sauce
Roast pork
£5.80
Beef in Black Pepper Sauce
£5.80
Chicken in Black Pepper Sauce
£5.70
King Prawn in Black Pepper Sauce
£6.50
House Special in Black Pepper Sauce
£6.50
Roast Duck in Black Pepper Sauce
£7.20
Welcome Special in Black Pepper Sauce
£6.80
Char Siu Omelette
Roast pork
£5.80
Char Siu Crispy Noodles
Roast pork
£6.50
Mixed Vegetables Crispy Noodles
£6.20
King Prawns Crispy Noodles
£6.80
Special Mixed Meat with Crispy Noodles
£6.90
Roast Duck Crispy Noodles
£7.50
Roast Duck with Kung Po Sauce
£7.20
King Prawn with Kung Po Sauce
£6.50
Mixed Vegetables with Kung Po Sauce
£5.50
Welcome Special with Kung Po Sauce
£6.80
Char Siu with Kung Po Sauce
Roast pork
£5.80
Chicken with Kung Po Sauce
£5.70
House Special with Kung Po Sauce
£6.50
King Prawn Shanghai Style
£6.80
House Special Shanghai Style
£6.80
Chicken in Thai Green Curry
£6.30
Chicken in Thai Red Curry
£6.30
House Special in Thai Green Curry
£6.80
House Special in Thai Red Curry
£6.80
King Prawns in Thai Green Curry
£6.80
King Prawns in Thai Red Curry
£6.80
Mixed Vegetable in Thai Green Curry
£6.20
Mixed Vegetable in Thai Red Curry
£6.20
Small Munchy Box
Small chicken balls (4), salt & pepper ribs, salt & pepper chips, salt & pepper chicken, vegetable spring rolls (4), Tsingtao samosa (4), egg fried rice, curry sauce
£13.99
Welcome Munchy Box
Chicken balls (4), salt & pepper ribs, vegetable spring rolls (4), salt & pepper chips, salt & pepper chicken, sesame prawn on toast, Tsingtao samosa (4), egg fried rice, curry sauce
£16.00
Mixed Vegetables Szechuan Style
£5.50
Roast Duck Szechuan Style
£7.20
Welcome Special Szechuan Style
£6.80
House Special Szechuan Style
£6.50
King Prawn Szechuan Style
£6.50
Char Siu Szechuan Style
Roast pork
£5.80
Chilli & Honey Sauce Chicken
Chilli & Honey Sauce Crispy Shredded Beef
Chilli & Honey Sauce Crispy Shredded Chicken
Chilli & Honey Sauce King Prawn
Chilli & Honey Sauce Welcome Special
Chop Suey Char Siu (Roast Pork)
Chop Suey Welcome Special
Cashew Nuts Char Siu (Roast Pork)
Cashew Nuts House Special
Cashew Nuts Mixed Vegetables
Cashew Nuts Welcome Special
Black Pepper Sauce Char Siu (Roast Pork)
Black Pepper Sauce Chicken
Black Pepper Sauce House Special
Black Pepper Sauce King Prawn
Black Pepper Sauce Roast Duck
Black Pepper Sauce Welcome Special
Bamboo Shoot & Water Chestnut Beef
Bamboo Shoot & Water Chestnut Char Siu (Roast Pork)
Bamboo Shoot & Water Chestnut Chicken
Bamboo Shoot & Water Chestnut House Special
Bamboo Shoot & Water Chestnut King Prawn
Bamboo Shoot & Water Chestnut Roast Duck
Bamboo Shoot & Water Chestnut Welcome Special
Kung Po Sauce Char Siu (Roast Pork)
Kung Po Sauce House Special
Kung Po Sauce Mixed Vegetables
Kung Po Sauce Welcome Special
Green Pepper & Black Bean Sauce Beef
Green Pepper & Black Bean Sauce Char Siu (Roast Pork)
Green Pepper & Black Bean Sauce Chicken
Green Pepper & Black Bean Sauce House Special
Green Pepper & Black Bean Sauce King Prawn
Green Pepper & Black Bean Sauce Mixed Vegetables
Green Pepper & Black Bean Sauce Mussels
Green Pepper & Black Bean Sauce Roast Duck
Green Pepper & Black Bean Sauce Welcome Special
Curry Char Siu (Roast Pork)
Egg Foo Yung Char Siu (Roast Pork)
Egg Foo Yung House Special
Garlic & Chilli Sauce Beef
Garlic & Chilli Sauce Char Siu (Roast Pork)
Garlic & Chilli Sauce Chicken
Garlic & Chilli Sauce House Special
Garlic & Chilli Sauce King Prawn
Garlic & Chilli Sauce Roast Duck
Garlic & Chilli Sauce Welcome Special
Garlic Butter Sauce Char Siu (Roast Pork)
Garlic Butter Sauce Chicken
Garlic Butter Sauce House Special
Garlic Butter Sauce King Prawn
Garlic Butter Sauce Roast Duck
Garlic Butter Sauce Welcome Special
Ginger & Spring Onions Beef
Ginger & Spring Onions Char Siu (Roast Pork)
Ginger & Spring Onions Chicken
Ginger & Spring Onions House Special
Ginger & Spring Onions King Prawn
Ginger & Spring Onions Mussels
Ginger & Spring Onions Roast Duck
Ginger & Spring Onions Welcome Special
Gravy Char Siu (Roast Pork)
Sweet & Sour Chicken Balls
Sweet & Sour Chicken Hong Kong Style
Sweet & Sour House Special Hong Kong Style
Sweet & Sour King Prawn Balls
Sweet & Sour King Prawns Hong Kong Style
Sweet & Sour Pork Hong Kong Style
Satay Sauce Char Siu (Roast Pork)
Satay Sauce House Special
Satay Sauce Mixed Vegetables
Satay Sauce Welcome Special
Szechuan Style Char Siu (Roast Pork)
Szechuan Style House Special
Szechuan Style King Prawn
Szechuan Style Mixed Vegetables
Szechuan Style Roast Duck
Szechuan Style Welcome Special
Tomato Char Siu (Roast Pork)
Mushroom Char Siu (Roast Pork)
Pineapple Char Siu (Roast Pork)
Pineapple Welcome Special
Omelette Char Siu (Roast Pork)
Oyster Sauce Char Siu (Roast Pork)
Oyster Sauce House Special
Oyster Sauce Mixed Vegetables
Oyster Sauce Welcome Special
King Prawn with Garlic Butter Sauce
£6.50
Roast Duck with Garlic Butter Sauce
£7.20
Welcome Special with Garlic Butter Sauce
£6.80
House Special with Garlic Butter Sauce
£6.50
Beef with Garlic Butter Sauce
£5.80
Char Siu with Garlic Butter Sauce
Roast pork
£5.80
Chicken with Garlic Butter Sauce
£5.70
Char Siu Egg Foo Yung
Roast pork
£5.80
House Special Egg Foo Yung
£6.50
Pineapple Fritter in Syrup
£2.60
Crabmeat & Sweetcorn Soup
£2.70
Creamed Style Sweetcorn Soup
£2.50
Chicken, Mushroom & Noodle Soup
£3.20
Set Meal A for One Person
Chicken & sweetcorn soup
Sesame prawn on toast
BBQ spare ribs
Choose 1 main dish
Fried rice
£12.00
Set Meal C for Three Persons
Crabmeat & sweetcorn soup (3)
Crispy aromatic duck (quarter)
Salt & pepper chicken wings
Choose 3 main dishes
Fried rice (3)
£33.00
Set Meal D for Four Persons
Peking hot & sour soup (4)
Crispy aromatic duck (half)
Salt & pepper spare ribs
Choose 4 main dishes
Fried rice (4)
£43.00
Set Meal for Two Persons
Chicken & sweetcorn soup (2)
Mixed appetisers
Choose 2 main dishes
Fried rice (2)
£24.00
Roast Chicken, Bacon & Sausage
£6.00
Grilled Liver & Mushrooms
£5.80
Grilled Sirloin Steak & Mushroom
£8.50
Char Siu Chop Suey
Roast pork
£5.80
Welcome Special Chop Suey
£6.80
Mixed Vegetables with Thai Sauce
£6.20
King Prawns in Thai Sauce
£6.80
House Special in Thai Sauce
£6.80
Noodles, Curry & Sliced Chicken
£5.20
Noodles, Gravy & Sliced Chicken
£5.20
Fried Rice, Curry & Sliced Chicken
£5.00
Fried Rice, Gravy & Sliced Chicken
£5.00
Gravy, Fried Rice & Chips
£3.60
Gravy, Noodles & Fried Rice
£4.00
Chips, Curry & Sliced Chicken
£5.00
Chips, Gravy & Sliced Chicken
£5.00
Curry, Fried Rice & Chips
£3.60
Curry, Noodles & Fried Rice
£4.00
Choice of Any 2 Meats Chow Mein
King prawn, beef, chicken OR char siu
£6.50
Char Siu Chow Mein
Roast pork
£5.80
Mixed Vegetables Chow Mein
£5.80
Char Siu with Gravy Sauce
Roast pork
£5.80
Choice of Any 2 Meats with Gravy Sauce
King prawn, beef, chicken OR char siu
£6.30
House Special with Gravy Sauce
£6.50
King Prawn with Gravy Sauce
£6.50
Roast Duck with Gravy Sauce
£7.20
Roast Duck & Roast Pork with Bean Sprout in BBQ
Sauce
£7.50
Roast Duck in Lemon Sauce
£7.50
Roast Duck with Bean Sprout in BBQ Sauce
£7.50
Roast Duck with Orange Sauce
£7.50
Shredded Beef in OK Sauce
£6.50
Chicken with Orange Sauce
£6.00
Chicken with Bean Sprout in BBQ Sauce
£6.50
Crispy Shredded Beef in Peking Sauce
£6.20
Crispy Shredded Chicken in Peking Sauce
£6.00
Roast Duck with Garlic & Chilli Sauce
£7.20
Welcome Special with Garlic & Chilli Sauce
£6.80
King Prawn with Garlic & Chilli Sauce
£6.50
House Special with Garlic & Chilli Sauce
£6.50
Chicken with Garlic & Chilli Sauce
£5.70
Char Siu with Garlic & Chilli Sauce
Roast pork
£5.80
Beef with Garlic & Chilli Sauce
£5.80
Choice of Any 2 Meats Fried Rice
King prawn, beef, chicken OR char siu
£6.50
Char Siu Fried Rice
Roast pork
£5.80
Mixed Vegetables Fried Rice
£5.80
Char Siu with Satay Sauce
Roast pork
£5.80
House Special with Satay Sauce
£6.50
Welcome Special with Satay Sauce
£6.80
Roast Duck with Satay Sauce
£7.20
Mixed Vegetables with Satay Sauce
£5.50
King Prawn with Satay Sauce
£6.50
Roast Duck with Bamboo Shoot & Water Chestnut
£7.20
Welcome Special with Bamboo Shoot & Water
Chestnut
£6.80
King Prawn with Bamboo Shoot & Water Chestnut
£6.50
House Special with Bamboo Shoot & Water Chestnut
£6.50
Chicken with Bamboo Shoot & Water Chestnut
£5.70
Char Siu with Bamboo Shoot & Water Chestnut
Roast pork
£5.80
Beef with Bamboo Shoot & Water Chestnut
£5.80
Mixed Vegetables with Green Pepper & Black Bean
Sauce
£5.50
King Prawn with Green Pepper & Black Bean Sauce
£6.50
Mussels with Green Pepper & Black Bean Sauce
£7.00
Roast Duck with Green Pepper & Black Bean Sauce
£7.20
Welcome Special with Green Pepper & Black Bean
Sauce
£6.80
Beef with Green Pepper & Black Bean Sauce
£5.80
Char Siu with Green Pepper & Black Bean Sauce
Roast pork
£5.80
Chicken with Green Pepper & Black Bean Sauce
£5.70
House Special with Green Pepper & Black Bean
Sauce
£6.50
House Special with Ginger & Spring Onions
£6.50
King Prawn with Ginger & Spring Onions
£6.50
Chicken with Ginger & Spring Onions
£5.70
Char Siu with Ginger & Spring Onions
Roast pork
£5.80
Beef with Ginger & Spring Onions
£5.80
Welcome Special with Ginger & Spring Onions
£6.80
Roast Duck with Ginger & Spring Onions
£7.20
Mussels with Ginger & Spring Onions
£7.00
King Prawn with Oyster Sauce
£6.50
Mixed Vegetables with Oyster Sauce
£5.50
Roast Duck with Oyster Sauce
£7.20
Welcome Special with Oyster Sauce
£6.80
Char Siu with Oyster Sauce
Roast pork
£5.80
Chicken with Oyster Sauce
£5.70
House Special with Oyster Sauce
£6.50
House Special Sweet & Sour Hong Kong Style
£6.50
Sweet & Sour Chicken Balls
£5.80
Sweet & Sour Chicken Hong Kong Style
£5.80
Sweet & Sour King Prawn Balls
£6.80
Sweet & Sour King Prawns Hong Kong Style
£6.50
Sweet & Sour Pork Hong Kong Style
£5.90
Vegetable Spring Rolls (6)
£3.00
Salt & Pepper King Prawns
£6.50
Skewer Chicken in Satay Sauce
£5.50
Skewer Prawns in Satay Sauce
£6.80
Mini Chicken Balls with Sauce BBQ
£5.80
Mini Chicken Balls with Sauce Curry
£5.80
Mini Chicken Balls with Sauce Gravy
£5.80
Mini Chicken Balls with Sauce Sweet & Sour
£5.80
Mixed Appetisers
Sesame prawn on toast, 4 crispy wonton, 4 salt & pepper spare ribs & vegetable spring rolls (2)
£8.00
Peking Style Crispy Chicken
£5.80
Chilli & Honey Spare Ribs
£6.20
Crispy Wontons
With sweet & sour sauce
£4.50
Crispy Aromatic Duck Half
Served with pancakes, hoisin sauce, cucumber & spring onions
£17.00
Crispy Aromatic Duck Quarter
Served with pancakes, hoisin sauce, cucumber & spring onions
£9.00
Crispy Aromatic Lamb
Served with pancakes, hoisin sauce, cucumber & spring onions
£9.50
Crispy Aromatic Pork
Served with pancakes, hoisin sauce, cucumber & spring onions
£8.50
Chicken Wings A. Salt & Pepper
£5.50
Chicken Wings B. BBQ Sauce
£5.50
Chicken Wings C. Peking Sauce
£5.50
Chicken Wings D. Chilli & Honey Sauce
£5.50
Chicken Chilli & Honey Sauce
£6.20
Crispy Shredded Beef in Chilli & Honey Sauce
£6.50
King Prawn in Chilli & Honey Sauce
£6.80
Crispy Shredded Chicken in Chilli & Honey Sauce
£6.30
Welcome Special in Chilli & Honey Sauce
£7.00
House Special in Curry Sauce
£6.50
Choice of Any 2 Meats Curry
King prawn, beef, chicken OR char siu
£6.30
Char Siu Curry
Roast pork
£5.80
Contact Us
Find Us
14 Lister Street, Hartlepool, TS247QE
We deliver to
TS24, TS25, TS26